Strymon Engineering the renowned manufacturer of guitar and Eurorack market products, has announced the release of a new bucket brigade-inspired delay pedal called Brig.
The new pedal uses the same smaller platform that Strymon recently introduced with its Cloudburst ambient reverb pedal and features three distinct delay voices inspired by different types of bucket brigade circuits. In addition to stereo I/O on TRS jacks, a new artifact-free tap tempo mode, USB C and TRS MIDI connectivity with 300 presets, and Strymon's acclaimed discrete analog JFET input, Brig also allows you to use delay time values that would be outside the normal range of the chips used in each Voice. This means that it is possible to choose the tonal character of the delay separately from the available delay time, which is not possible with analog bucket brigade pedals. Brig's three voices can range from slapback echo to stereo crossover dreamscapes and everything in between, and it is also a great standalone BBD chorus pedal!
The sound of analog bucket brigade (BBD) delays is a classic for a very specific reason: it offers warm tones and an organic and distinctive uniformity of repetitions, with a sound unmatched by any other type of circuit.
Strymon's new Brig dBucket Delay pedal recreates all the characteristic behaviors of these classic chips while offering more flexibility, power, and performance-now you can really play repeats like an instrument!
Brig presents three different BBD entries, based on different types of classic bucket brigade circuits, offering everything from gritty repetitions and sci-fi psychedelia to soft, dreamlike soundscapes on which to float.
The warm bucket brigade modulation gives the repeats an exciting motion, and with the shortest delay times, it even works as a standalone BB chorus pedal!
If you add the stereo I/O section, TRS MIDI, 300 presets, USB C for DAW MIDI control and firmware updates, JFET analog input circuitry for unparalleled response, and tap tempo behavior that allows both tempo tapping and classic "bucket brigade chaos" when you act on the tempo knob, then you get a truly powerful BBD workstation in a compact format!
The Brig is a triumph of compact design, offering a tremendous amount of power and flexibility in an elegantly reduced form! Here's what it offers you:
Three truly distinct delay voices.
Artifact-free tap tempo. Stereo operation.
Simple, responsive controls and expression pedal capability.
Discrete Class A JFET stereo input preamp with high impedance and very low noise for exceptional touch sensitivity, dynamics and feel.
MIDI control for tempo, patch save/recall and more.
Superior components, rugged construction, and a USB jack to control the pedal via MIDI from a computer or to perform firmware updates.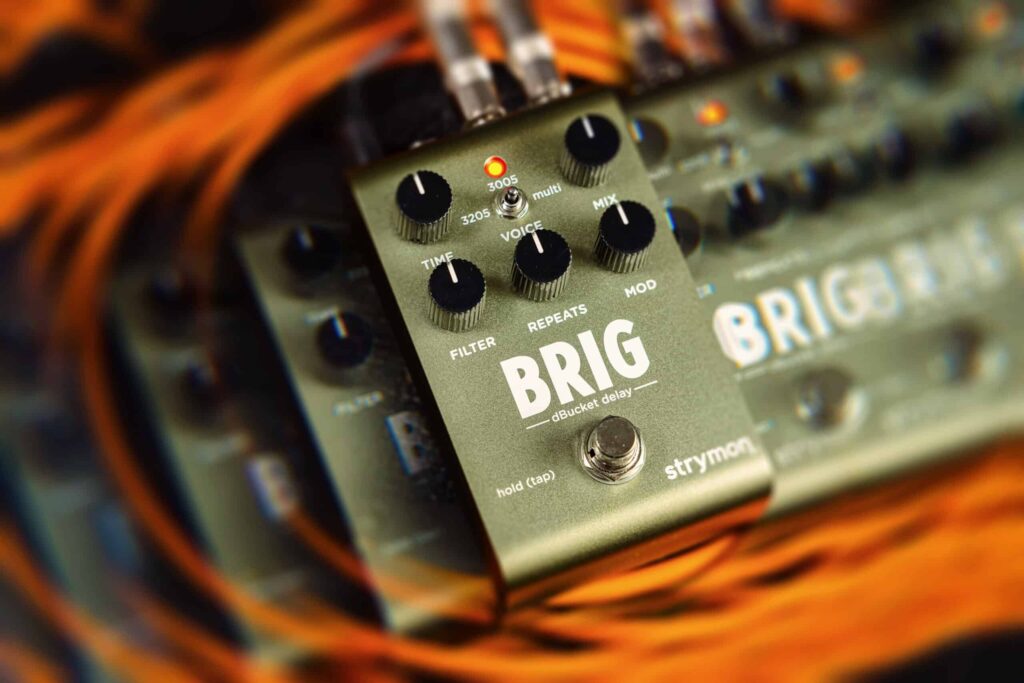 Ask for availability at Strymon centers, write to info@backline.it