Available now for immediate delivery is the PT100, the ultimate multi-channel, no-compromise, MIDI-switchable head!
The revamped version of the PT100, created by Suhr together with Pete Thorn is available now and ready to accompany you live and in the studio.
Peter Thorn, a world-renowned guitarist, is not only known for his touring/session work with legendary artists such as Chris Cornell and Melissa Etheridge, but he is also considered a sound guru by the guitar community. That is why the PT100 head unit will satisfy even guitarists with the finest palate!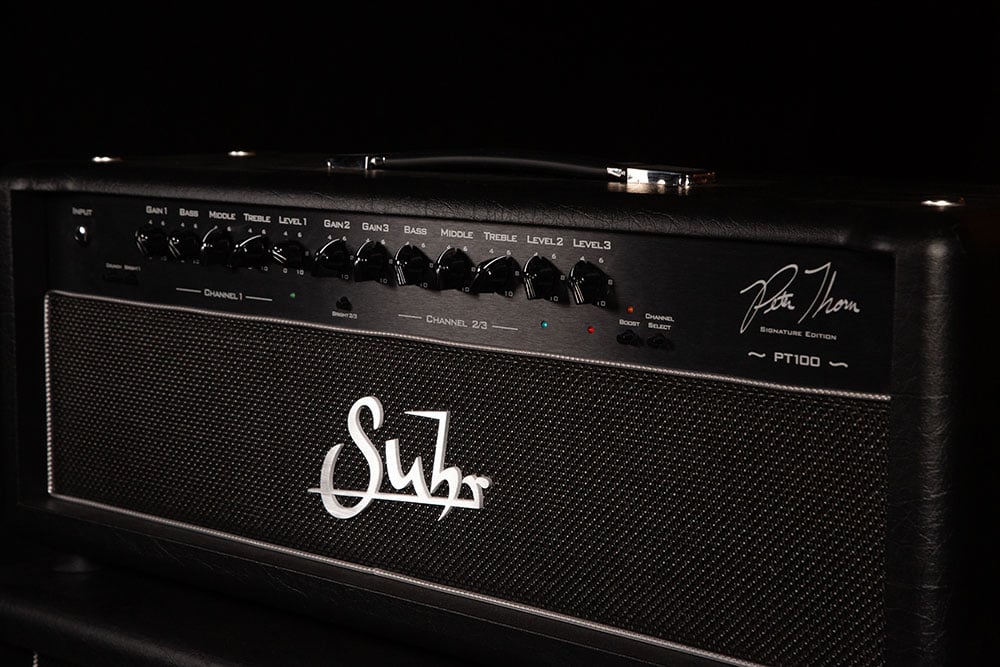 A collaboration between John Suhr and Peter Thorn, the Suhr PT-100 Signature Edition is a 100-watt, three-channel tube head with a custom plexi-style output transformer. The preamplifier consists of six 12AX7 tubes, while the power amp features four EL34 tubes. A serial/parallel solid state effects loop, and a programmable Midi footswitch complete the standard equipment.
The Suhr PT100 has three distinct channels that offer unparalleled versatility
Channel 1: The green channel is an American-voiced clean, with a punchy bottom end and seemingly unlimited headroom. It responds well to pedals and has a Crunch mode that can be activated to push this channel into medium-gain overdrive territory.
Channel 2/3: The blue/red channel is the modded British high-gain tone that only Suhr can offer. Its heritage comes from the legendary high-gain circuitry of Custom Audio amplifiers. The gain is dense and juicy, with rich harmonic tones and unlimited sustain.
In short, an instrument that can give you all the tonal range you need!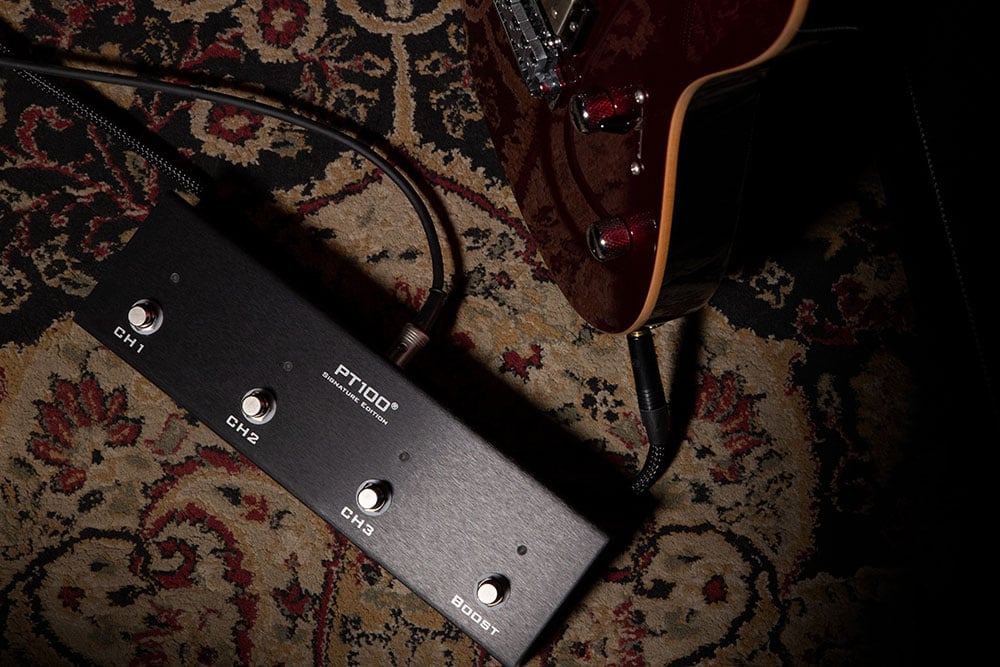 The supplied footswitch is connected to and powered through the MIDI IN/FS socket on the back of the amplifier. In addition to switching amplifier channels, the footswitch provides remote access to the amplifier's mosfet boost circuit. Each channel can be programmed to have the boost on or off by default.
The high-voltage mosfet boost circuit is located in the initial part of the preamplifier section of the amplifier. It can be turned on or off at any time, on any channel, and provides a dynamic, high headroom, clean boost at the front end of the amplifier. It can be used to push the clean channel into overdrive or to boost the saturation, sustain and harmonic content of channels two or three.